Product descriptions are so often overlooked when it comes to marketing your product.
These choice bits of copy are frequently shoved down the bottom of the to-do list, as an afterthought to the more sexy parts of branding like photography and #influencers.
But product descriptions should be a key consideration when it comes to developing your online store.
Not only do they convey your brand voice and personality, product descriptions can also indicate the level of service customers can expect from your business.
Basically, it's like walking into a store and either being greeted by a helpful sales assistant (an excellent product description) or being left to wander around with no one to even clarify if that dress you like is really a long top.
To help you more clearly understand the information that product descriptions can convey about your business, we've rounded up examples from several big names in the industry. And with the help of one little black dress from each, you'll soon understand the importance of fashion product descriptions and be inspired to improve your own.
The Iconic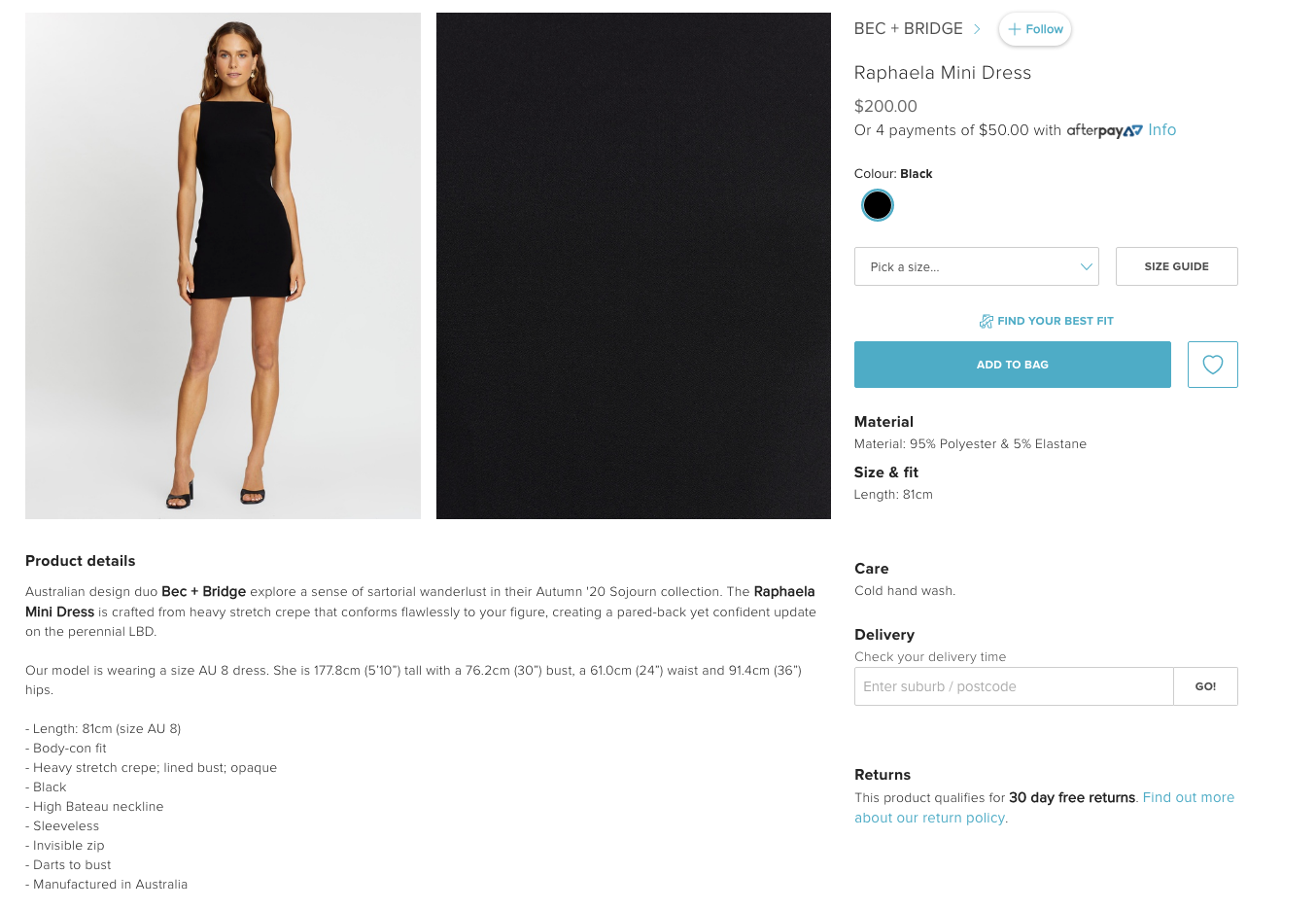 When it comes to product descriptions, The Iconic clearly realises their value. The label has written an excellent description that makes this $200 Bec & Bridge LBD seem like a luxury design.  
Along with getting across all the essential information in an easy-to-read list format, The Iconic has also created a short description that's engaging and emotive. Using phrases like "conforms flawlessly to your figure" and "crafted from heavy stretch crepe", the dress projects a sense of allure and quality. 
And mentioning how the dress sits on the body and that it's a "confident update on the perennial LBD" allows the customer to imagine how they'll feel when wearing it.
ASOS
ASOS is one of the biggest online fashion stores, so it's bound to have great product descriptions, right? Wrong. This store's LBD description has only very basic information. 
Now, this may surprise you (especially since I've just been harping on about all the benefits) but having product descriptions with just the basics is ok for a brand like ASOS. Don't get me wrong, having a witty piece of writing telling shoppers about the dress in all its glory would be good, but it's not strictly necessary. 
As ASOS has positioned itself as a fast-fashion online retailer, its core customers care more about the price (it's $36, by the way) than whether or not the dress "explores a sense of sartorial wanderlust". And with prices so low, plus a generous returns policy, their customers can easily buy the dress to try it on rather than relying on a description. 
Another reason why ASOS probably doesn't bother with detailed descriptions is that it has an incredibly quick turn over of products. Which means spending time and money creating descriptions may not make sense financially.
Sportsgirl
While some brands are using product descriptions to their full potential, many could do more. See: Sportsgirl. 
Although Sportsgirl is getting across some of the basic information and keywords in its LBD product description, there is much more it could include. 
While there's some information about where and how to wear the dress to persuade would-be buyers, Sportsgirl has really missed the chance to showcase its unique tone of voice.
One of the reasons why Sportsgirl is so popular is because of its fun and youthful branding. So, it makes sense to harness this personality and use it to achieve engaging descriptions.
It is important to note, however, that unlike several of the brands on this list, Sportsgirl also sells through physical stores. So, trying to beat the internet giants at their own game while also focusing on bricks-and-mortar can be challenging. But that doesn't mean it can't be done.
Net-a-Porter
Unlike ASOS, which positions itself as fast fashion, luxury brand Net-a-Porter needs quality, well-written product descriptions to convey the value of its brand and products beyond the price. (Because who's going to buy a $3700 LBD online if they don't know anything about it?)
So, Net-a-Porter uses product descriptions to showcase the luxury essence of the products it carries as well as that of its own brand. And the label approaches it in a unique and engaging way. 
While the retailer includes all essential information in list form, it separates size and fit into its own section. Then, Net-a-Porter provides a short description, titled "Why We Love It", that sounds a lot like something you'd read in a Vogue editorial. 
Including such a description not only suits the brand's unique ecommerce-slash-online magazine fusion but also goes some why to showing why this dress is worth $3,714 more than the ASOS equivalent.
Gorman
Gorman has a rabid fan base (known as Gormies) and, when it comes to its online store, the brand seems to rely on its existing brand loyalty rather than emotive copy. 
Let's be honest; a lot of the time we buy fashion with our hearts instead of our heads. So, even if we don't technically need that new $199 dress, we may buy it anyway if we feel a connection or believe that it'll enrich our lives. 
As such, product descriptions that tell a story rather than just state facts can be incredibly useful. For Gorman, there's definitely an opportunity here to show more of what makes them such a beloved brand.
So what this all means…
What we can see from all these examples is how different product descriptions can give you such a varied impression of a brand's personality. And rather than leaving these down the bottom of your marketing list, getting your product descriptions written can give you a marketing edge.
Want to get them done without getting overwhelmed? Start by picking out your top sellers and prioritise having these written. Then work your way down in chunks until you've got them all done and working for you.
Still feeling like you don't know where to start? Let's chat. We can work on figuring out your brand's voice and creating a template for your product descriptions to get them written faster than you can slip into a LBD for date night.